The choice of craftmanship
---
Our barrel range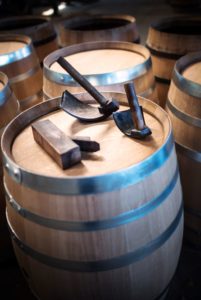 We offer a full range of French oak barrels, from 225L to 500L. Depending on the models, the thickness of the staves can be 22 or 27mm:
Bordeaux Transport barrel (225L, 22 or 27mm)
Bordeaux Château barrel (225L, 22mm)
300, 400 or 500L barrel (27mm)
In terms of origins, we choose oak from "Centre-France", which is a priviledged supply area for cooperages. We also care about the local tradition of barrels made from Aquitaine oak and we specifically source wood from our region. These two origins represent the main part of our activity.
---
Forests selections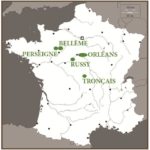 We also propose barrels made of oak from specific French forests, which are selected for the high quality of their wood. Perseigne, Orléans, Bellême and Russy are the forests we chose for the current vintage.
Important: quantity available for these references is very limited.
---
Our staves, inspired by the cooper's know-how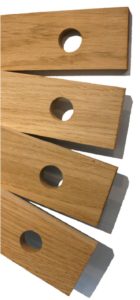 In order to answer each winemaker's essential needs, we propose French oak staves only, which are available with 2 different thicknesses and toastings:
22mm stave

: it will bring sweetness and elegance to your wines with a 8 to 10 months aging. These staves can be used for 2 wines/vintages.
11mm stave

: 5 to 6 months aging will be enough to reveal the full potential of your wine and its character. We advise to use these staves for only 1 vintage.
Available toastings for our stave range:
"Medium Long" toasting (ML): fine and discreet nose, delicate structure and length on the palate,
"Amber" toasting: great sweetness, long breakdown of tannins and maximum respect of the fruit.
The oak we use for the staves comes from the same selection than the one operated for the manufacture of our traditionnal barrels. It thus presents the same guarantees in terms of origin and traceability.
---
Our « Chichis » sticks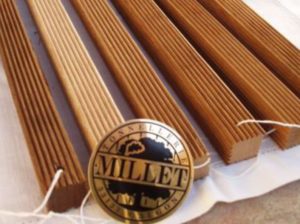 These alternatives are French oak sticks, which have been grooved to maximize their contact surface with wine:
barrel sticks: 6 interlinked sticks, which can be screwed under the bung with a supplied stainless steel screw
tank sticks: sticks connected together with a stainless steel axis, which can be attached in the tank
Available toasting levels: Natural (untoasted) / Medium (M) / Medium+ (M+)